Orders must be a minimum of $130.00 and within 20 miles of our location to qualify for delivery and pickup. Orders that are outside of 20 miles may require a higher minimum order. We have nominal delivery fees. Equipment rental prices are for a 1 day rental.
Island Breeze Party Rentals has the machine that will put a smile on any child or adult's face. Rent our commercial grade soft serve ice cream machine and turn your ordinary party into an extraordinary party. Our soft serve ice cream machines make any event a BIG HIT. Whether you want to serve vanilla OR chocolate soft serve ice cream, we can take care of it. Our machines work great for root beer floats. Do you want to serve vanilla AND chocolate? Then rent two machines and use foam bowls to serve both flavors in one.
Rent our commercial grade soft serve ice cream machine and serve ice cream just like the major ice cream shops do. We provide our soft serve ice cream machine on a black cart with a black skirt. You just need to provide a regular 120 volt household outlet that is wired to a 20 amp breaker with no other electrical items running on that circuit. Customer is responsible for checking outlet prior to delivery. This machine must be used under a solid shelter if you are using it outside. Your first cone or bowl will be ready in 5 - 10 minutes and this machine can serve two 4 oz. servings (2-3 cones or bowls) per minute.
We Setup and Clean the machine for only $175.00. Rental includes 2.5 gallons of premium dairy OR non-dairy VANILLA or CHOCOLATE soft serve ice cream and this will approximately make 80 4 oz. cones. You also have the choice of 60 cake ice cream cones OR 50 12 oz. foam bowls and 50 white spoons. We have nominal delivery fees. Pre-arrangement and additional fees are required for deliveries and pickups after normal business hours, non ground floor, or to remote or difficult locations (e.g., large back yards, decks, use of elevator, etc).
You can also substitute soft serve ice cream for frozen custard. Frozen custard tastes amazing. Upgrade to frozen custard and enjoy a tastier denser, smoother, and creamier desert treat made with egg yolk. Once you taste frozen custard you will never want anything less. Upgrade to frozen custard for only $20.00 more.
Need a dairy free ice cream? We offer Frostline Vanilla and Chocolate soft serve ice cream. Frostline soft serve is gluten free, lactose free, and no trans fat. This is a great option for someone who wants to serve to lactose intolerant guests. There is no extra charge for this option. For an additional charge we can also special order Pink Cotton Candy ice cream mix for that sweet tasting nostalgia flavor.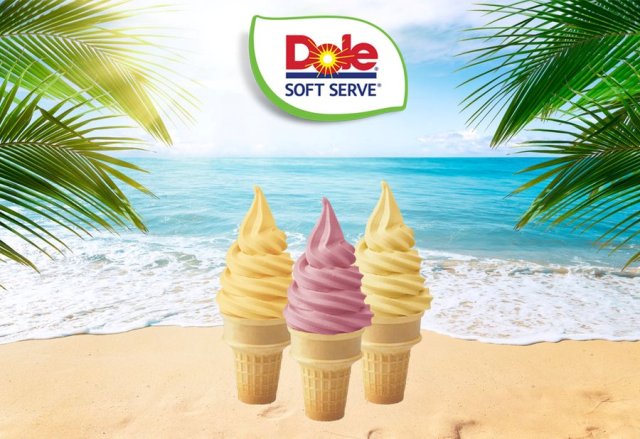 Don't want traditional vanilla or chocolate ice cream? We also offer Dole Soft Serve Pineapple, Mango, and Strawberry mix for an additional $15.00. Dole Whip Pineapple is a legendary ice cream in the Disney theme parks. Dole Whip made with Dole soft serve is dairy-free, meaning vegan and lactose intolerant guests can indulge. Other great aspects of Dole soft serve is the fact that it is Kosher, low in saturated fats, features no trans fat, no cholesterol, as well as being gluten-free.
Rent an ice cream machine for your wedding, engagement party, birthday party, bridal shower, quinceanera, corporate event, employee appreciation event, trade show, holiday party, graduation party, or any other special event. Schools, corporations, churches, event planners, catering companies, and individuals rely on Island Breeze Party Rentals to provide clean quality equipment.
Click Here To Make a Reservation
Disclaimer We are not responsible for the performance of the ice cream machine if anything other than our ice cream is used.

* Please take note that we do not allow our soft serve machines to be transported from the delivery address. *

** We DO NOT carry machines up multiple steps or a flight of stairs. **
Soft Serve Ice Cream Machine



1920 watts / 16 amps - Rental $175.00
Extra Soft Serve Mix & Cones



Purchase an extra 2.5 gallons of vanilla soft serve mix for $50.00 each.
Purchase an extra 2.5 gallons of Annie's Original 10% Custard mix (vanilla or chocolate) $70.00 each.
Purchase an extra 20 cake ice cream cones for $4.00.
Foam Bowls



Add 12 oz. foam bowls to your order to easily add toppings to your ice cream. Purchase an extra 50 foam bowls and spoons for $8.00.
Suggested Toppings for Bowl Servings - WE DO NOT PROVIDE.
Hot Fudge
Hot Caramel
Chocolate Syrup
Strawberry Syrup
Butterscotch
Whipped Cream
Maraschino Cherries
Chopped Nuts
Crushed Oreo Cookies
Rainbow Sprinkles
Mini Marshmallows
Mini M&M's
Mini Butterfingers

Crushed Kit Kat Bars
Mini Reese's Peanut Butter Cups
Andes Mints
Nerds
Sour Gummy Worms
Gummy Bears
Graham Crackers
Nilla Wafers
Crispy Sugar Wafer
Crushed Granola
Whoppers Malted Milk Balls
Brownie Bites
Fresh Fruit Toppings
Additional Charges:
Extra 2.5 gallons of 4% soft serve mix (VANILLA or CHOCOLATE) $50.00
Upgrade to Annie's Original 10% VANILLA Custard mix (LIMITED AVAILABILITY) $20.00
Upgrade to Dole Whip Pineapple, Mango, or Strawberry mix (LIMITED AVAILABILITY) $15.00
Extra 2.5 gallons of Annie's Original 10% VANILLA Custard mix (LIMITED AVAILABILITY) $70.00
Extra Frostline Mix (VANILLA or CHOCOLATE) $30.00
Extra Dole Whip Pineapple, Mango, or Strawberry mix (LIMITED AVAILABILITY) $30.00
20 Extra Cake Cones $4.00
50 Extra Foam Bowls and White Spoons $8.00
1 Extra Day $60.00
Same Day Pick-up before 8 pm $35.00
Same Day Pick-up between 8 pm - 9 pm $40.00
Same Day Pick-up between 9 pm - 10 pm $45.00
Same Day Pick-up between 10 pm - 11 pm $50.00
Same Day Pick-up between 11 pm - 12 am $55.00
Same Day Pick-up between 12 am - 1:00 am $65.00
Next Day Service $25.00
Same Day Service $40.00
Delivery Fees:
| | |
| --- | --- |
| 0 - 5 miles | $20.00 |
| 5.1 - 10 miles | $25.00 |
| 10.1 - 15 miles | $30.00 |
| 15.1 - 20 miles | $35.00 |
| 20.1 - 25 miles | $40.00 |
| 25.1 - 30 miles | $45.00 |
| 30+ miles | Inquire |